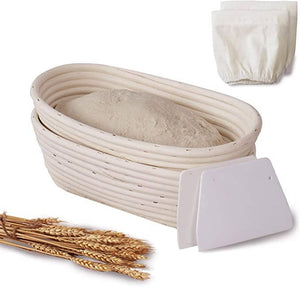 Oval Banneton Bread Proofing Basket
Regular price $29.99 CAD Sale
Measurement: 10" x 5.9 " x 3.1" (+/- 0.2" Inch) Materials: Rattan cane, Stainless steel Set includes: 01 banneton basket, 01 dough scraper,01 cloth liner, 01 instructions. This 10- inch proofing basket gives your dough a place to rest and rise perfectly before turning into gorgeous bastard bread loaf in the oven.
🍞 WELL-FORMED LOAVES - Proofing is an essential method to create perfect bread loaves that are soft on the inside with a crisp crust outside. As a dough rising container, our banneton proofing baskets for sourdough and batard bread provides you with that and more.
🍞 100% NATURAL MATERIALS - In this business, we put people and the planet first at all times. This is why we use nothing but natural rattan cane and bamboo in our eco-friendly banneton and scraper.
🍞 SAFE TO USE - It is important that our brotform proofing basket set complies with food safety regulations. This banneton uses stainless steel tacks which are a lot safer than traditional basket tacks.